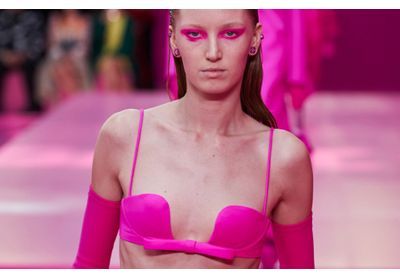 Hailey Bieber, Dua Lipa, Kim Kardashian… They have all succumbed to the summer trend. Which ? the barbiecore of course ! The goal ? Transform into Barbie (or almost) by adopting her outfits in the emblematic color: fuchsia pink. A fashion trend that continues to grow, especially since we obtained a first glimpse of Margot Robbie as the famous Barbie doll – alongside Ken, played by Ryan Gosling – in the eponymous film by Greta Gerwig. A top trend that now extends beyond the fashion sphere and seduces the beautistas that we are! But then, how to adopt this ultra-girly trend and wear the pink makeup without falling into kitsh? We give you some tips.
3 Ways to Embrace the Barbiecore Makeup Trend
If the total pink beautylook is quite appropriate when talking about barbiecore, we prefer to play it softer and bet on a decomposed look.
Pink on the eyes
The first (and almost essential in our opinion) way to adopt barbiecore is obviously to apply pink to our eyes. If you are a fan of beautiful smoky eyes, we bring our most beautiful pink palette to start an elegant gradient on her eyelids. If you prefer graphic lines like a cat eye or even a double winged eyeliner, we prefer a pencil or liner worthy of the name. The whole thing can also be accentuated by the use of a pink mascara (which can be adopted alone by the way) for pretty XXL eyelashes. One thing is certain: if this shade is suitable for all eye colors, pink complements perfectly that of azure.
pink on the lips
In this summer season, the rosy hues apply without reserve on our deconfined lips of the mask. To follow the trend as much as possible, here we opt for a pink lipstick in a fuchsia hue. An ideal cut-and-paste of Barbie's perfect smile.
pink on the nails
Since a beauty treatment worthy of its name must go to the ends of the nails, we opt for a dazzling pink manicure. From pale pink to fuchsia pink, passing by candy pink… everything is allowed with barbiecore, even the most extravagant ones nail art. What make Barbie jealous (or almost).
Our barbiecore makeup inspirations to copy