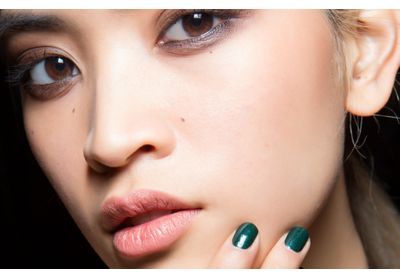 The last days of August slip by and with them the shadow of the start of the new school year begins to hover. We then gently say goodbye to the summer period to prepare for our return to the office. And the beautista in us is already thinking about the beauty look that will make her shine. A new haircut? Stunning eye makeup? An amazing lipstick? And if making a splash also went through pretty nails? That's good, we've found THE varnish trend for the new season.
Back-to-school manicure: the green color in all its forms
After a summer full of vitamins on the manicure side – we think in particular of the dopamine nails and jelly nails – and its strong tendency to mismatched nails, the month of September (with its return to school and its change of season) promises to be much more sober. There is no question of falling into winter clichés. If the trend is towards mono-colour, understand plain varnish, the back-to-school color (and all its variations), it is far from being dark, dull or bland. Far from the eternal dark shades (which we will adopt later in the year), it is the color green that is causing a sensation as we approach the fourth semester. She's everywhere on social media! Adopted by our favorite stars, this shade of nail polish comes in abundance. And for good reason, we can choose it in an olive green tone like singer Selena Gomezin a pastel shade like the influencer Chiara Ferragni or rather pistachio like model Kendall Jenner. No risk of missteps, all shades are popular! And if we really want to be on top, we opt for shiny nails. Back to school promises to be pop and sparkling!
Our selection of back-to-school varnishes