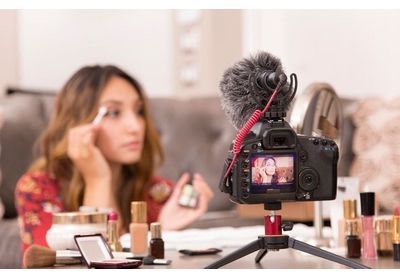 On screen, a smiling young woman welcomes us to her "spa", at home, and announces by whispering the steps of the routine of the treatment she performs, not on her face, like a classic tutorial, but " on » the camera. We are invited to listen to it, to relax, as if it were providing us with care. During the session, she does not stop whispering, articulating each word with precision and slowly, so that each syllable is perfectly audible. Smiling, she slides the cream between her fingers; then she passes a squeaking cotton ball over the lens, before grabbing a jar and rattling her fingernails on the cardboard box. The video lasts almost an hour, and every decibel, however imperceptible, is transmitted through the microphone. This description may sound like a modern version of hell to some, but for millions it is divine. The numbers prove it: the video in question (created by ASMR – artist Vanukee) has garnered over 650,000 views on YouTube. Others propose to listen to the sound of a brush on the hair, or the caress of a brush coated with powder which one slides on the skin. In short, anything is possible. Two of the most prolific industries on social media, theASMR and beauty, merged. ASMR stands for Autonomous Sensory Meridian Response. [réponse autonome du méridien sensoriel, en français]. A snoring name, but which designates a rather familiar sensation: the appeasement caused by an external stimulus. Some love to listen to the crackling of a fire, others feel these little shivers at the top of their heads when their hair is touched or their skin is brushed against… "The concept was born in 2008, when the American blogger Jennifer Allen identified this sensation, explains Florian Boullot, sophrologist and creator of the ASMR Paris channel. It was only in 2018 that the phenomenon really exploded. It's hard to quantify, but the ASMR University site estimates that there are 25 million dedicated videos on YouTube. The trend is also unavoidable on TikTok, where some offer live to capture live viewers. "Videos that have to do with beauty are the most successful," says Van, aka Vanukee, whose creations attract 1.7 million subscribers on TikTok and 289,000 on YouTube. Spectators are attracted by the desire to be in a cozy cocoon. In roleplay videos, where the viewer is invited to experience a haircut or make-up makeover, we manage to convey to her the same sensations as if she were at the hairdresser's. It's very satisfying. »
Why do we become addicted?
Commentators explain that it helps them fall asleep. Many young people use these clips as background noise to focus during work or homework. But they seek above all to calm their anguish in these troubled times. If it were necessary to quote only one figure, we could limit ourselves to this one: 67% of French people feel fear about the future, according to a survey carried out this summer about eco-anxiety*. Being able to disconnect from negative thoughts is the Grail of the time. "I discovered ASMR during the confinements, when I was going through a very difficult period, continues Van. A friend sent me a clip, and it quickly solved my sleep issues. Besides, some subscribers of my channel tell me that they stopped taking anxiolytics or sleeping pills thanks to this. It changes their daily lives. Yet the studies remain vague. "They show that certain areas of the brain are connected, in short, something is happening at the cerebral level. A study also pointed out that the heart rate drops more than with a simple relaxation exercise," notes Florian Boullot. Another study conducted this year shows a decrease in depression in people who are sensitive to it. Yet another concludes that ASMR creates a "low-level euphoria" that can last up to 45 minutes. "But for the moment, there is no large enough study on the subject," summarizes Grégoire Borst, professor of developmental psychology at the University of Paris-Cité and co-author of the book "C'est (pas) moi it's my brain! (ed. Nathan)". The areas of the brain dedicated to hearing are less important than those devoted to the analysis of visual stimuli, but they serve to link concepts or sensations together. By creating a multi-sensory environment, which stimulates both vision and hearing, we engage individuals more strongly. Many relaxation techniques use this principle. »
The ritual, more important than the result
The practice has invaded all fields, and the beauty industry has taken hold of it. Several brands such as Dior or Lush have offered ASMR videos or audio files when certain treatments are launched. A central idea at the heart of this concept: beauty is not only used to beautify it is above all a tool to feel good. We are even reaching a turning point in our relationship to our beauty habits. The result of our routines no longer matters, it's the ritual that takes all the space. "The idea of ​​well-being as a central element in our lives has been established in society for a decade, analyzes Lucille Gauthier Braud, beauty director for the Peclers trend office. The Covid crisis has given a brutal acceleration to this trend with a shift from wellness to the field of mental health, especially among young people. Emotion now joins beauty care, and being becomes more important than appearance. ASMR offers a new experience to the younger generation who needs space and moments of refuge to cut themselves off from a difficult reality. Some brands have made relaxation the heart of the offer. Ressource Corps-Mental has been offering fabric masks since 2020 to leave on for about twenty minutes while listening to a recorded sophrology session. Florian Boullot, he mixes ASMR and sophrology in his office, because he considers the two methods to be very complementary. So, convinced?
* IFOP survey for Qare carried out in July and August on 2,100 people aged 15 and over.