Several brands have decided to launch Made In France jeans, presented as more sustainable and eco-responsible than fast-fashion models. A choice that requires real know-how, and some compromises.
This is the king of "must have basics". The coolest of clothes. Renowned for being easy to wear and available for all body types, jeans are one of the most popular items of clothing in our wardrobes: more than 2.3 billion are sold each year. But in recent years, here it is pointed out: at a time when the impact of fashion on the environment is increasingly scrutinized, jeans are considered to be the clothing that pollutes the most.
"The jeans are made of cotton, a material that consumes hundreds of liters of water, pesticides, GMOs…", details Mathilde Lepage, activist behind the Instagram account "Make My Clothes Great Again", and author of the book Let's change fashion!.
"Jeans also require a lot of dyes, detergents, chemical agents that are very harmful and deleterious to the ecosystem during the washing phase. In addition, all of its manufacturing stages are dispatched around the globe, from the treatment of the material up to attaching the buttons. You can have seven to ten steps done in seven to ten different places".
"From the cotton field to the store, jeans can travel up to 65,000 kilometres", estimates for its part theAdemethe Ecological Transition Agency – let us recall by way of comparison that the circumference of the Earth is 40,000 kilometers.
Faced with this problem, several brands have decided to launch Made In France jeans, presented as more sustainable and eco-responsible. A model that requires compromises and requires real know-how.
Short circuit and durability
Who wants to produce French jeans comes up against several obstacles, starting, therefore, with cotton: it does not grow in France, and is therefore necessarily imported. "Made In France jeans are not made of French cotton," says Mathilde Lepage.
"The ideal is to use already existing material, by upcycling or by recycling, that's really the Holy Grail", adds the young woman, who quotes the brand Resap Paris, specializing in upcycling. "Otherwise, we can also produce jeans in natural material – cotton, hemp, linen… In the case of cotton, the best thing is for the material to be labeled. But we must accept the idea that cotton will have been imported before all the rest of the stages are done in France".
Once this first step is over, the brands that manufacture their jeans in France try to minimize their ecological impact by focusing on a short circuit and local factories for the rest of the process.
"Our jeans are made 9 km from Paris, in Bobigny, in order to limit transport and the carbon footprint as much as possible", explains Gilles Attaf, founder of Belleville Manufacture and President of the Origine France Garantie certification.
Consume less but better
He claims that his jeans, woven in the Vosges from cotton imported from Turkey and assembled in the Parisian suburbs, have "70% less environmental impact" than jeans from fast-fashion.
Gilles Attaf is also keen to work on the durability of his products: because the longer a product lasts, the less the consumer will feel the need to replace it with another purchase. "Nowadays, we want to keep products and that they are of high quality. We want to consume less but better, and to give meaning and civic awareness to our purchases", he tells us. .
"You have to be aware of what you buy and try to make your jeans last to slow down the frequency of purchases", confirms Mathilde Lepage.
A real know-how
And how do you ensure that jeans are indeed durable and stand the test of time? Relying on quality manufacturing and robust materials.
"By opting for Made In France jeans, I expect a better bill, the products being made to last and in less enormous quantities, unlike fast-fashion", confides Victoria Arias, author of the blog Mango and Saltdedicated to eco-responsible fashion and lifestyle.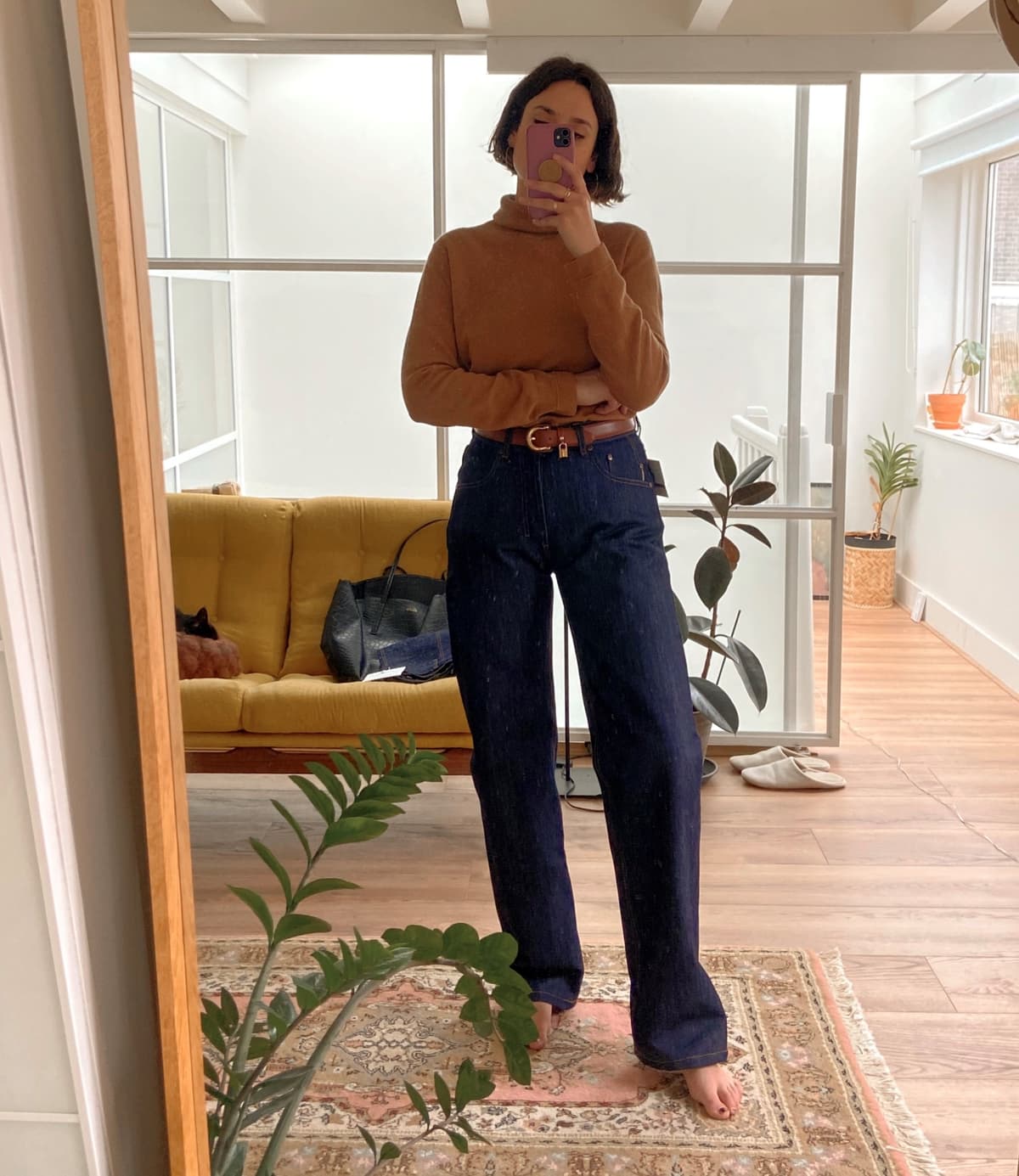 On his Instagram account, the blogger highlights in particular a French and family brand that she loves, Atelier Tuffery, which makes its clothes by hand in the Cévennes. She praises "the quality of the pieces cut by hand and assembled in an artisanal way", and is delighted with the "know-how that has lasted for generations, since 1892 and the beginnings of denim".
"I have confidence in this know-how and I appreciate being able to support this rather unique quality", she explains to us. "I also like the idea of ​​supporting the local economy and sectors that have struggled to exist, particularly because of relocation, and supporting know-how that is great to keep in the textile industry by France".
Weaving, the most difficult step
With Belleville Manufacture, Gilles Attaf wanted to make "slightly high-end jeans, both aesthetic and comfortable, with real work on the manufacturing details". For example, the pockets are lined and the strap braided. However, he points out that in France, the weaving stage is not an easy task.
"Weaving is the most difficult part in the manufacture of Made in France jeans, because we had lost all the necessary know-how in France on the manufacture of jeans and the 'de Nîmes' canvas", tells us – he. "We had a hard time getting the industry back on track and for once, it was really 1083 and its founder Thomas Huriez who managed to get the industry back on track with its product".
1083, created in 2013, is a French brand that has challenged itself to relocate the manufacture of jeans less than 1083 km (the distance between the two furthest cities in France). These are made of GOTS-certified organic cotton, which comes "mainly from Tanzania, Benin or Mali, where irrigation is reasoned", announces the brand.
A high price, but justified
So inevitably, who says made in France, says decently paid employees. Who says know-how, says cost. And who says Made In France jeans, says high price. On average, a pair of denim designed on our territory is sold for around one hundred euros. At 1083, for example, prices start at 99 euros and go up to 149 euros. At Belleville Manufacture, they cost 140 euros and at Atelier Tuffery, from 129 to 290 euros for a "salvedge" model, the Rolls Royce of denim. An upcycled Resap Paris model is offered at 120 euros.
"There are not at all ethical and fast-fashion brands that offer jeans in the same price range as sustainable jeans and Made In France", regrets Victoria Arias, who assures that the quality of French jeans n has "nothing to do" with what even international brands specializing in denim, such as Lee, Levi's or Wrangler, can offer.
"There really is a reason for this price, and we know it," insists the young woman. In addition to appreciating the know-how and quality of Made in France brands, she also likes the proximity and easy exchanges with these companies "on a human scale", as well as the "special service" they offer. Atelier Tuffery, for example, adds with its jeans "an extra thread to be able to hem" if necessary.
"We are working on the right price", recalls Gilles Attaf. "What we are trying to convey is that we apply normal coefficients and that we do not make indecent margins on products made on the other side of the world by children". At Belleville Manufacture, "no discounts, no Black Friday, no sales at -70%", he says before adding: "We don't take the consumer for a fool".
"A label on a product is expensive. Brands that use labeled materials are expensive, because respecting nature and the natural growth rate of a plant's growth is expensive", sums up Mathilde Lepage. "If fast-fashion manages to offer such low prices, it's because there's someone or something in the production chain that suffers: either the environment or people… and often both".
Green washing and French washing
And precisely, to stay desirable and in tune with the times, more and more fast-fashion brands are trying to take advantage of the growing enthusiasm for eco-responsible fashion. They thus take up the codes of sustainable brands for marketing purposes, and hold a committed discourse without adapting their mode of production. This is called "green-washing" (when the ecological argument is put forward in a misleading way), or even French-washing (that is, "fake" Made In France).
So that the least informed consumers are not fooled (often, the products are expensive but far from the expected quality and the promised local origin), Victoria Arias advises to take the time to do some research before each purchase, and invites you to start with the simplest: read the product label. We first check its composition: the more natural fibers (cotton, linen, hemp), the better. If the jeans contain elastane, we check that it does not exceed 2%.
"Also check if the cotton or the material has a certification or a label, such as Oeko-tex or GOTS", adds the blogger. The Oeko-Tex label guarantees the absence of toxic products for the body and for the environment on a finished product GOTS certification ensures that the product has been designed with respect for the environment but also for people (decent working conditions, no hazardous products used).
Take steps to find out
To detect bad intentions, we are also wary of misleading vocabulary, such as "Designed in Paris", "Imagined in France", but also of the use of the tricolor flag, sometimes embroidered on the parts in order to create confusion. We also avoid brands that produce in mass, and we also try to see beyond the fine words of brands that proclaim themselves "sustainable", "responsible" or "committed", but without giving proof of their values. and commitments.
"Self-labeling without transparency is not a good sign!" Reminds Victoria Arias. "Look at the labels, the composition, the brand's website, do research on the Internet on the brand… It takes an effort, but as a consumer, you have to take the step of getting informed".