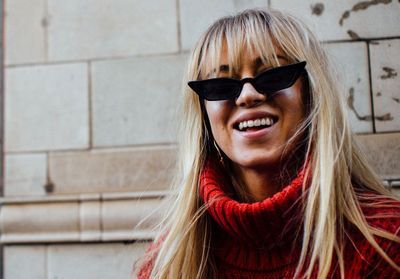 On all fronts, she is. And for good reason, a real chameleon hairstyle, the fringe – like an accessory – has the ability to give a certain spice to a haircut deemed a little too simple and allows you to change your look without going as far as a radical metamorphosis. She also has the ability to adapt to all face morphologies according to her style. Curtain bangs, straight bangs, short or XXL bangs… It is not always easy to choose your bangs. Here are some inspirations from hairstyles with bangs in images, in pictures.
Some types of bangs under the magnifying glass
The straight fringe
More classic than the others, the straight bangs – more or less dense and long – is the one that everyone can wear. You can leave it natural or bombard it to give it more hold. One thing is certain with it: zero missteps guaranteed.
The mini fringe
Also called short bangs, the mini bangs is not always easy to sport by its strong identity (we grant you that). Nevertheless, she remains the symbol of an ultra-stylish girl. Its plus? It adapts to all body types. We particularly like to wear it with a square. Its minus? It is more difficult to maintain than the others.
The XXL fringe
The particularity of the long bangs lies in the fact that it comes under the eyebrows. It is often worn straight. Its plus? It easily turns into a curtain fringe if it ends up obstructing our view.
The curtain fringe
Recognizable among a thousand, the fringe curtain, as its name suggests, derives its name from its "curtain effect". In other words, it splits in the middle of the forehead into two large locks before blending in with the rest of the lengths. A bit retro, a bit sexy… We love it.
Our hairstyle inspirations with ultra-varied fringe models