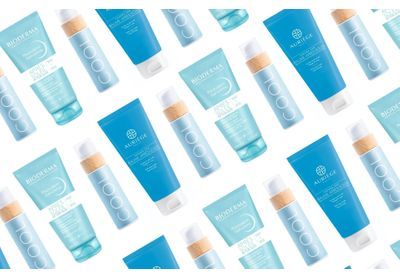 You've spent the day in the sun doing almost nothing – don't lie, we're on our own – and you're more tired than a Friday night: it's not because you're recuperating from your exhausting year. The studies lean for other reasons. You are exhausted because you are probably suffering from mild dehydration and your body is working hard to regulate its temperature. In short, you think you are resting, but your body is exhausted. Your skin adapts to the sun.
Read also: A face, an era: Avril Lavigne, the punk princess of the 2000s
The sun ? A shock for the skin
"In summer, the epidermis produces more cells, proteins and lipids, that is to say its 'bricks' and its 'cement'", recalls Aurélie Guyoux, scientific director for Esthederm. The skin becomes thicker and develops a temporary ability to protect itself from the sun. If putting your forearms in the sun for a quarter of an hour a day is excellent and sufficient to provide the right dose of vitamin D, prolonged exposure is a source of concern. "We know that UV protection with a Solar cream is fundamental and yet it remains difficult to gain acceptance, says Dr. Olivier Doucet, vice president of research at Lancaster. The number of skin cancers is increasing every year. The after-sun stage is forgotten. But the ideal routine should include three stages: prepare, protect and repair the skin. »
Read also: Dermatologist's tips for preparing your skin for the sun
It's all about the first 3 days
Buy after-sun only in case of sunburn not enough. The first few days, even when prolonged exposure is not abused, are crucial. "Excess light generates free radicals, explains Aurélie Guyoux. The skin produces enzymes to neutralize them, but it gradually loses its ability to create enough of them. In about twenty minutes in the sun, she lost all the Vitamin E that it contains. She does not synthesize it herself, so you have to bring it to her through food or cosmetics. After exposure, we also know that it takes three days to reformulate a correct flow of melanin. ". In short, you have to support your skin as much as possible when you haven't prepared gradually, especially at the very beginning.
The essential hydration
Once you've invested in a tube or two of Solar cream for a few weeks of vacation, we think that our usual body milk will do the trick. Nope ! Nourish your epidermis, it's already not bad, but we can do much more. Well hydrated skin works better because all the enzymes that work to defend it need water. The priority will therefore be to drink enough. In all after-sun products, formulators add humectant molecules such as glycerin and water-retaining molecules such ashyaluronic acid. The most advanced cosmetic formulas are also able to circulate water more efficiently within aquaporins, the so-called reservoir cells of the dermis. The latest generation after-suns also provide mineral salts that regulate the water balance.
After-sun care: ask for the complete formula
To limit long-term damage, such as wrinkles, pigment spots and slackening, an ultra-competent care is essential. "In addition to the damage caused by UVA and UVB rays, we now know that the spectrum of visible light and even certain infrared damage the functioning of the skin, explains Olivier Doucet. UV causes breaks in the structure of DNA within cells. The skin naturally produces the enzymes to repair them. When you expose yourself a lot, it can no longer follow and the DNA is permanently damaged. To support the repair action, laboratories manage to encapsulate enzymes or slip in molecules that boost their actions. Research into all the repair mechanisms, which began more than twenty years ago, continues. But that's not all: the labs use antioxidants to strengthen our natural defense system and, of course, soothing agents (the star of which is thealoe vera) to calm the inflammation.
"Although an after-sun provides comfort and sensoriality, it serves above all to restore the functionality of the skin, continues Olivier Doucet. It soothes, refreshes and restores the hydrolipidic film. And you notice the difference every day: the skin is more beautiful and the tan lasts a little longer. " And tomorrow ? Biologists are now studying the exposome, ie all the factors that influence the skin and their interactions. For example, pollution boosts the harmful effects of UV rays. It's a safe bet that the products of tomorrow will be adapted: anti-pollution after-sun will be essential if you choose to go tanning in Marseilles or Mexico City.
What about tan extender formulas?
These creams are interesting because they contain melanin boosters, peptides encouraging its production. One of the key ingredients is tyrosine, which comes from soybeans. These treatments are complete and hydrating. In short, they have more than an aesthetic interest! On the other hand, if you tend to see pigment spots after exposure, do not apply them to these places. Stick to a classic after-sun.
Warning for sensitive skin
You don't want to change your whole beauty routine if you have the sensitive skin and responsive? We understand you: an overly scented sunscreen can cause small pimples, an overly opaque texture can clog pores. Women with sensitive skin often prefer to stick with products that work for them all year round, to minimize the risk of allergies and other redness. Another mistake! UV rays cause widespread inflammation. The older we get, the more chronic it is. "This inflammation contributes to or aggravates many skin problems, such asadult acne, for example, or hyperreactivity to pollution, says Aurélie Guyoux. And this problem is not insignificant: 66% of women in France have hyper-reactive skin. So how do you arm your skin without attacking it? If it reacts, it is better to use formulas with as few allergenic molecules as possible. Without perfume, in short.
Read also: Know your phototype to better protect yourself from the sun
After-sun care, instructions for use
Every evening, remove sun filters with a real cleansing product after exposure: a simple rinse with water is not enough. Leave a thick layer of after-sun on the areas at risk, such as the décolleté, the neck, the feet and the hands, before removing the excess (if the skin has not absorbed it all) with a tissue . And apply your treatment a few days after the holidays to continue to "support" your skin.
Our selection of after-sun to prolong and enhance your tan