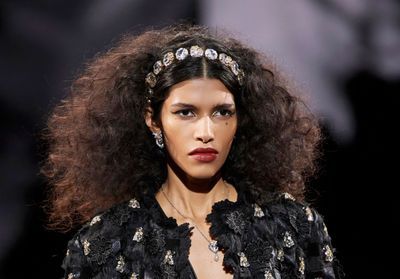 Evening hairstyle: the most trendy
Spotted on red carpets and runways, the " wet hair » stands out as THE trendy evening hairstyle. Easy to achieve, this look is perfect for giving a chic and high fashion style. To start, you must blow-dry of the whole of the hair towards the back with a round brush then pass the straightener on the half-lengths and ends for a hair straightening perfect. The trick: we moisten the front and back part of the hair close to the scalp with a spray bottle. On this same area, apply a wet effect gel using a comb. Be careful not to touch the lengths. To keep our wet look throughout the night, we fix everything with a strong fixing spray.
Evening hairstyle: the most sophisticated
We bring up to date the look of Hollywood stars of the 40s by adopting the side hair. To achieve this hairstyle, we draw a side parting. We work the veneered side with a "wet effect" gel, then we fix the back with straight bars. For the large side, after having sprayed a heat protectant on the hair, we come to curl the hair. The trick: we twist each lock when rolling it up to accentuate the notch.
Evening hairstyle: the most rock'n'roll
For an easy rock evening hairstyle, we play with the volume between the top part and the sides. To begin, the hair must be separated into two parts: the occipital part (top of the head) is isolated and the lengths of the sides are flattened with a flexible wax. We apply a volumizer at the roots before backcombing the whole thing. Using a small brush with soft bristles, gently smooth the lengths backwards without touching the creping. With an extra strong lacquer we fix our rock'n'roll evening hairstyle to be on top until the end of the night.
Read also : How to succeed in your evening bun?
Discover our 50 inspiring hairstyle ideas to shine in the evening
Thanks to Loic Masurel, Revlon Professional ambassador hairdresser