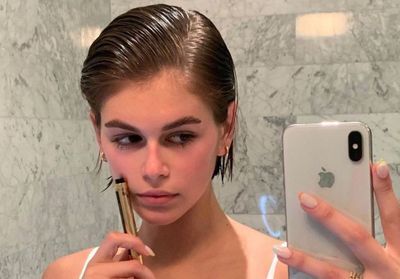 Imagine yourself on vacation for a few seconds, the sun caresses your skin and you gently get out of the water, your hair wet and salty from the sea. Guess what? At this precise moment, you are the trendiest on the beach! Because yes, the "Wet Hair" – hairstyle on wet hair – is back in force this summer. Spotted on several catwalks at major fashion shows and then on the red carpets for a few years now, it is the hair trend that we see everywhere. Some celebrities have not hesitated to seize the phenomenon. Like Kim Kardashian who even made it his true trademark, closely followed by Selena Gomez or even Miley Cyrus. The success of "Wet Look Hair"? Its great simplicity to achieve it for a super glamorous look. And it must be said, that at this time, with the high temperatures, who wants to use their hair dryer? We then grab his gel, his spray, his comb and we fall for wet hair!
How to reproduce Wet Look Hair?
What is practical with the "Wet Look Hair" is that it can be worn in a multitude of ways. In braid, in sleek bunon long hair, hair slicked back or even back, this makeover is perfect for being glamorous in no time. How ? Simply by grabbing your gel, hairspray and even detangling spray. Simply apply to all of your hair or only to the roots or ends – depending on the hairstyle you choose – one of the three products. We prioritize the gel for the roots, the hairspray and the spray on the tips. Apply everything to wet hair and you're done.
Here are 15 hairstyle ideas on wet hair