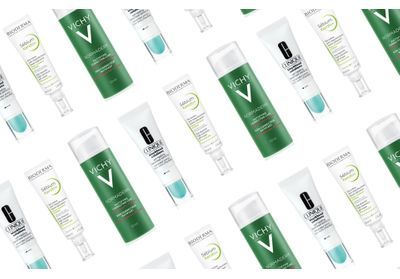 Acne, whether juvenile or adult, is almost always linked to a hormonal phenomenon. And for good reason, hormones can stimulate the activity of our sebaceous glands. And in the face of a disorder, acne can set in. At its origin? A dilated pore and clogged or too much sebum production that can lead to discomfort, redness, blackheads, pimples… To reduce the effects of this inflammatory disease (or even say goodbye to them), it is our responsibility to adopt a good routine with appropriate care. Michèle Sayag, doctor-allergist and director of medical strategy at Bioderma, gives us her advice.
How to choose the right anti-acne treatment?
When acne settles on our skin, several signs can alert us. Among them are: the oily skinredness, microcyststhem black spotspimples can then lead to more extreme stages and cause scabs and acne scars. And if in many cases it is recommended to go to a dermatologist, it is good to adopt a daily care routine. And for that, to each problem, its solution.
In any case, this is what Michèle Sayag explains to us: "in the case of oily skin with a few pimples or early acne that does not require any medical anti-acne treatment, we will choose a non-comedogenic moisturizer that may have certain properties depending on needs, in other words the predominant symptoms". If we shine, we turn to a mattifying treatment; if you have redness, a soothing treatment; if our skin is oily, we opt for an anti-seborrheic treatment… Many treatments are now available for acne-prone skin and available to suit everyone.
In the case of more severe acne treated with an anti-acne medication, "the skin is attacked and irritated by the treatment, the patient experiences feelings of tightness and overheating. It is therefore essential to combine a very moisturizing, soothing and non-comedogenic treatment".
Anti-acne active ingredients to know
Choosing your anti-acne treatment can sometimes be a real ordeal. If the labels often tell us the action hidden behind the product, it is sometimes good to go further by knowing the key active ingredients of a good anti-acne routine as well as their actions. The expert lists them for us.
Soothing active ingredients: enoxolone, allantoin, niacinamide (also called vitamin PP or vitamin B3).
Purifying active ingredients: copper and zinc
Mattifying active ingredients: sebum-absorbing powders (such as silica)
Anti-seborrhoeic active ingredients: zinc gluconate, vitamin B6.
The right things to do for a good anti-acne routine
Once the products have been chosen, it is necessary to adopt the right steps for flawless skin. First thing to remember: the anti-acne care routine is adopted twice a day, in other words morning and evening. We start with cleaning the face, an essential step (we can never repeat it enough). Gently apply a product suitable for oily acne-prone skin. For this, the expert advises turning to a sometimes "purifying" cleanser in a rinse-off foam formula or a micellar solution. Then, we dry our face without rubbing of course and we apply a moisturizer suitable for our skin type.
And if there was one gesture to banish, it would be touching our pimples: "it only aggravates the inflammation". However, it is possible to make up your acne with products specially developed for acne-prone skin. "It is even recommended in order to improve self-esteem, which is often altered in teenagers or adults with acne," specifies the expert. Finally (and not least), "you have to think about protecting yourself from the sun with a SPF day cream if you go to a sunny region, even in winter," concludes the expert.
Our selection of the best anti-acne treatments